T5 Softlights Classic
     A very powerful yet compact fluorescent fixture.   The « beam » is wide,  soft, but still with a good contrast.  The 8- bank Classic  is a real allround fixture – fit to  work in almost every condition. Lightweight on location, compact in a televison studio, robust for documentary, powerful and smooth for  photography .
Produced since 1996 this fixture was the first of its kind taking benefit of the emerging T5 technology into professional lighting.Today,  we present the 5th generation of a fixture that has proven it's solidity and reliabilty on the demanding rental market.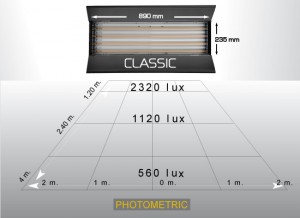 Total Weight Fully Equiped: 4,9 kg

Length 890mm x Height 235mm x Depth 55mm

| | |
| --- | --- |
| Remote : | Wireless Wi-Fi and or Dmx 512 ( xlr 5 cts ) |
| Power : | 280 Watt |
| Ballast : | 4 times Flickerfree high frequency ballasts ( 40>80 Khz) |
| Lamps : | 8 times T5-85 Safety coated Full spectrum Lamps |
| Lamps color: | Daylight (5600) and Tungsten (3200) |
| Light : | Incident light at 1.2 meter: 2370 LUX |
| Dimming rate : | 250 levels 8 bit. 100% > 3%. |
| Channels : | 4 channels + Master |
| Standards : | Logo CE, logo RoHs , CEM , 802.11.b ( wifi) |
| Extras : | Barndoors , eggcrate, yoke, baby plate, 5m power cable |