T5 Softlights Long-One


Designed for a maximal spread of soft light. This 4 bank uses our High Output 145 cm long lamps. With a minimal loss of height, the Long One is the ideal pick to light cycloramas and back drops. Its absolutely slim profile, makes it a powerful tool both in horizontal and vertical position. On location, it is the perfect fixture to put over windows to increase natural daylight effects. Its very slim and elegant design also makes this fixture a nice object suited for events and architectural use.

A version with 4 channels + master makes this luminaire fit for both colour mix Red Green Blue and Yellow. Or whatever other combination needed.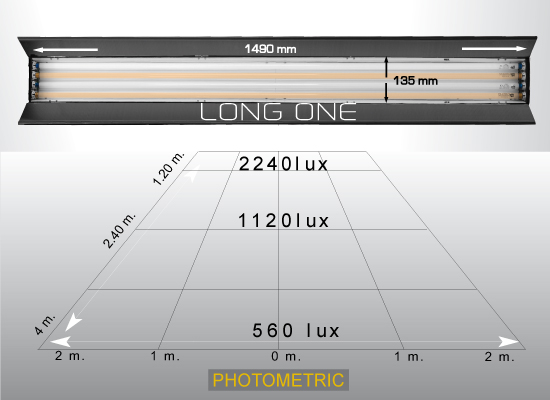 Total Weight Fully Equiped: 4,1 kg
Length 1490mm x Height 135mm x Depth 55mm
| | |
| --- | --- |
| Remote : | Wireless Wi-Fi and or Dmx 512 ( xlr 5 cts ) |
| Power : | 200 Watt |
| Ballast : | 2 or 4 times   Flickerfree high frequency ballasts ( 40>80 Khz) |
| Lamps : | 4 times T5-145 Safety coated Full spectrum Lamps |
| Lamps color: | Daylight (5600) and Tungsten (3200) |
| Light : | Incident light at 1.2 meter: 2340 LUX |
| Dimming rate : | 250 levels 8 bit. 100% > 3%. |
| Channels : | 2 or 4  channels + Master |
| Standards : | Logo CE, logo RoHs , CEM , 802.11.b ( wifi) |
| Extras : | Barndoors , eggcrate, yoke, baby plate, 5m power cable |
| Recyclable : | Lamps contains mercury – do not deposit |